Mystery sea creature washes up on Georgia beach USA
By Leada Gore
"Has the Loch Ness monster turned up on a Georgia beach? That's what some people are saying after a man found a strange sea creature on the beach of Wolf Island National Wildlife Refuge in Golden Isles, Georgia.
Jeff Warren told Action News Jax he first believed the animal was a dead seal but after looking at it closely, he thought it looked like someone from prehistoric times. The creature was about 5 feet long and had an elongated neck, the news channel reported.
Legend holds that a mysterious sea monster that resembles the famed Lock Ness monster - this one named Altamaha-ha - lives in the coastal waters off Georgia and locals were quick to say Warren had found the mythical beast. Altamaha-ha is said to be 30-feet long, with flippers like a seal, much like the carcass found on the beach.
The U.S. Fish and Wildlife Service had a different explanation, however. Officials said the creature was likely a sea animal in an advanced stage of decomposition, so much so that it resembled a Plesiosaur, a long-necked marine dinosaur that lived more than 200 million years ago."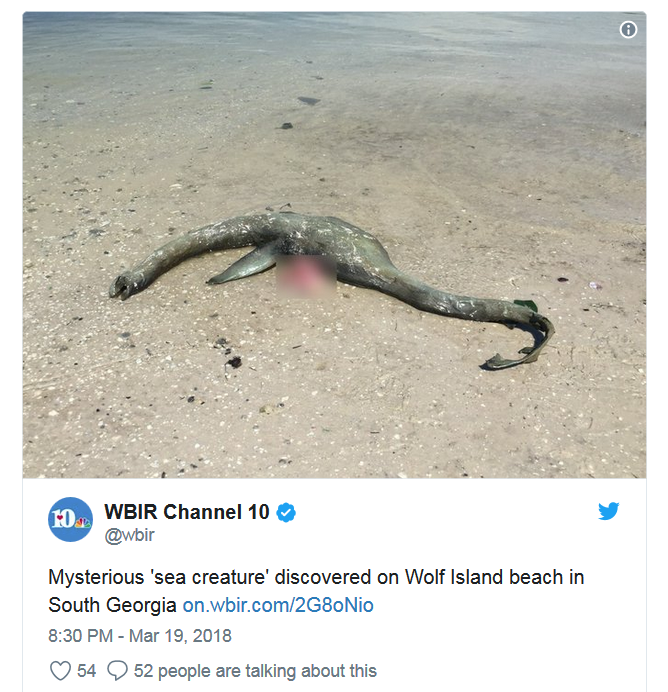 First thing I thought was it's a model, but you be the judge.
Shazz
Source:
http://www.al.com/news/index.ssf/2018/0 ... es_up.html